News & Events
Ribbon Cutting Marks Opening of Central Collinsville Health Center
March 20, 2017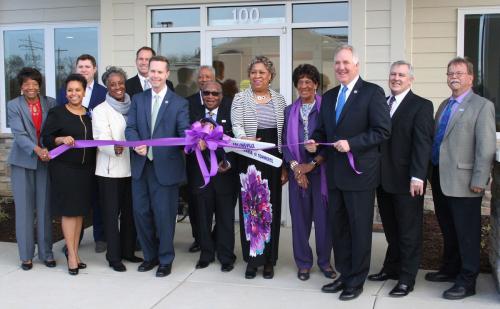 Congressmen John Shimkus (R–Ill.) and Rodney Davis (R-Ill.) recently participated alongside representatives of Southern Illinois Healthcare Foundation, as they cut a ribbon to celebrate the opening of its new Central Collinsville Health Center, located at 1215 Vandalia St., in Collinsville, according to a press release.
The $2.6 million, 12,000 square-foot facility will provide affordable medical and behavioral health services as well as dental care to patients of all ages. With a reach of approximately 3,000 local patients, Central Collinsville Health Center accepts most insurance plans, including Medicaid and Medicare, and offers a sliding fee scale so no patient is ever turned away, regardless of their ability to pay.
The new facility will also be the information technology hub for SIHF that will help elevate the organization's role in telemedicine expansion and enhanced care coordination services.
SIHF previously operated a smaller center at the Northgate Apartments complex in Collinsville. With the new center, providers and staff will provide a more complete set of services, making access to care even greater.
Board members and organization supporters attended the opening to listen to the remarks made by Shimkus and Davis, Joshua Jennings of Dover Development and SIHF President and CEO Larry McCulley.
"Rural clinics, community health clinics, federally qualified health clinics are really a great way to go in terms of getting people access to care. Even though we have healthcare debates in Washington, D.C., this is really part of the solution so we are glad to have you all here today in Collinsville," Shimkus said. "There are a lot of people that are ready to have access to your services. Again, when we are in this national healthcare debate, this (access) is part of the solution and I am fortunate to be a part of the team who have helped move this process along."
"Community health centers are the key to affordable, successful healthcare coverage in Central Illinois and in our underserved and uninsured areas. We have opportunities and we have learned that it takes access to primary care doctors to really reduce the cost of our healthcare delivery system," Davis said. "Unfortunately, we still see too many who do not have access so being here to watch a new facility like this open for expanded access and just recently touring your other facilities that are open, I have been able to take those experiences back to Washington to be included in our debate to continue to talk about what it means to have access to primary care at centers like this."
Central Collinsville Health Center is now accepting appointments for family medicine, behavioral health and dental care services for patients of all ages. The health center will also soon offer pediatric care as well. Cynthia McHaney, who has more than 30 years of experience in the health care industry, serves as manager of the center.
"I'm so pleased to see this project take shape for the residents of Collinsville and neighboring communities," said Larry McCulley, president and CEO of Southern Illinois Healthcare Foundation. "This is a wonderful, state-of-the-art facility that will provide essential services to people of all ages and it reinforces SIHF's investment in the people of Collinsville."
To make an appointment at the Central Collinsville Health Center, call 618-343-6015.