The COVID-19 Vaccination
Who will you get it for?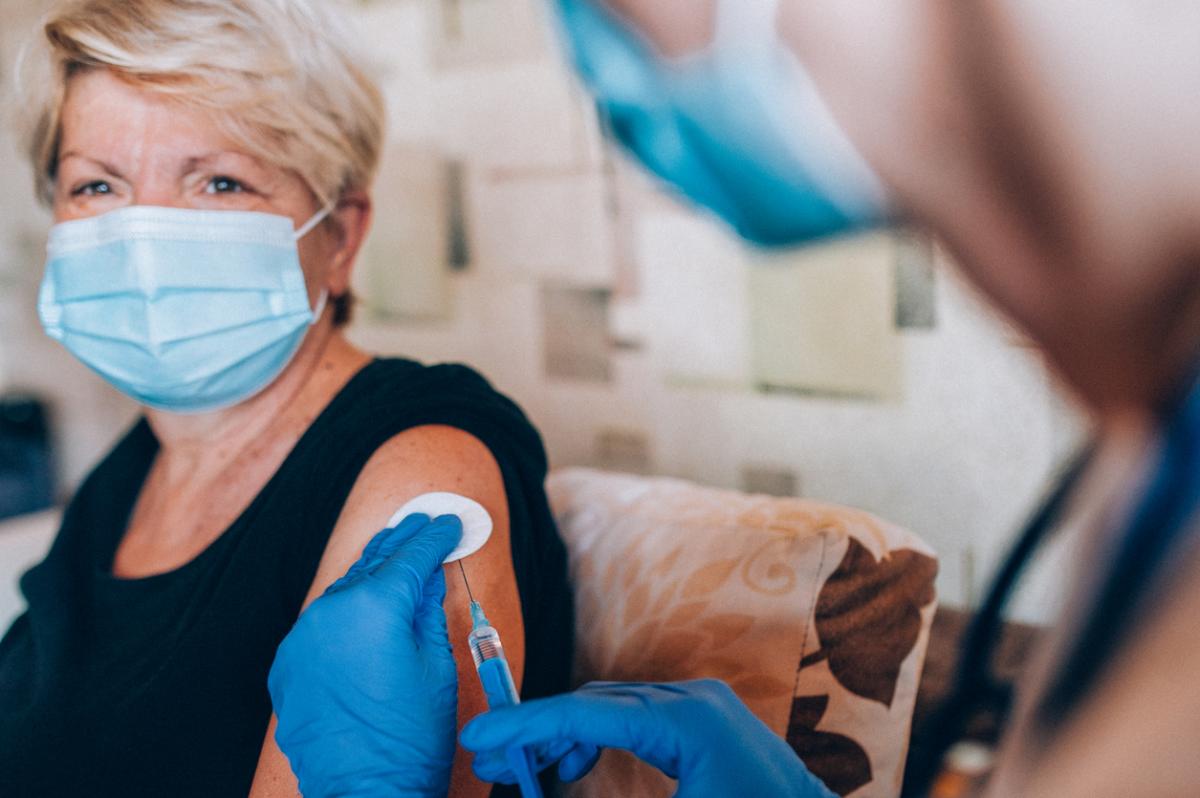 The COVID-19 pandemic has had a direct impact on all of our lives over the past year. Now, as the COVID-19 vaccination is rolled out across the United States, we have a brighter future to look forward to.
Protect yourself and your loved ones. Get the COVID-19 Vaccination.
Need more information on how to sign up for the vaccine?
Know the Facts
The CDC has reported the following facts regarding the Pfizer and Moderna vaccines.
All COVID-19 vaccines currently available in the United States have been shown to be highly effective at preventing COVID-19.
All COVID-19 vaccines that are in development are being carefully evaluated in clinical trials and will be authorized or approved only if they make it substantially less likely you'll get COVID-19.
Based on what we know about vaccines for other diseases and early data from clinical trials, experts believe that getting a COVID-19 vaccine may also help keep you from getting seriously ill even if you do get COVID-19.
Getting vaccinated yourself may also protect people around you.
Experts continue to conduct more studies about the effect of COVID-19 vaccination on severity of illness from COVID-19, as well as its ability to keep people from spreading the virus that causes COVID-19.
Q: WHAT ARE SOME COMMON SIDE EFFECTS OF THE VACCINE?
The vaccine side effects that trial participants reported most often were fever, headache and generally feeling unwell, Dr. Ngozi Ezike, director of the Illinois Department of Public Health, said during a press briefing. The Centers for Disease Control and Prevention says these symptoms are signs the immune system is working.
Q: HOW DOES THAT COMPARE TO THE EFFECTS OF COVID-19?
Some people experience mild illness from COVID-19 or no symptoms at all, but the disease can have potentially serious and life-threatening complications, including pneumonia and acute respiratory distress syndrome, leading to multi-organ failure and death, according to the FDA.
Q: DID YOU GET THE JOHNSON & JOHNSON VACCINE?
A small number of Johnson & Johnson (or Janssen) COVID-19 vaccines have been administered in our area. Individuals who received a Johnson & Johnson vaccine remain fully vaccinated and do not need to seek out an alternate vaccine.
A very rare side effect in women age 18 - 48 has caused a pause in the use of the Johnson & Johnson vaccine. People vaccinated with J&J should consult with their medial provider if they develop severe headache, new neurologic symptoms, severe abdominal pain, shortness of breath, leg swelling, petechiae (tiny red spots on the skin), or new or easy bruising within three weeks after vaccination.
If you have received the vaccine and have questions or have experienced any side effects, we have implemented a hotline for you to call. Please feel free to reach out for more information.
Call 618-646-2596, option 2.
In case of an emergency, dial 911.
Black, white, and people of every shade in between have the same questions about the COVID vaccines.
Here are some answers from medical experts:
Please bring your photo ID and insurance card if you have one. Insurance is not required for the vaccine. If you have insurance, we will submit charges as allowed. However, there is no out-of-pocket cost to patients for the vaccine. If you accidentally receive a bill, please contact our customer service department at 618-332-2081.
---
Facts Regarding Clinical Trials and Representation
These stats have been pulled directly from the Pfizer and Moderna clinical trials report.
MODERNA:
The clinical trial recipients included people from the following racial categories: 74.9 Caucasian, 20% Hispanic/Latino and 9.7% African American.
This study included

30,000

participants ages 18 and older in the U.S. More than

6,000

participants identified as

Hispanic

or

Latino

and more than

3,000

participants identified as

Black or African American

.
Pfizer:
Among the group of clinical trial participants 9% identified as

Black

or African American. 28% of the participants identified as Hispanic/Latino and 83% were Caucasian.
Phase 2 and 3 of the clinical trial participants included people from the following racial categories:

81%

were

Caucasian, 26.2%

were

Hispanic/Latino

and

9.8% African American

.
Johnson & Johnson:
The study was conducted in 43,783 individuals 18 years of age and older in eight countries, including the United States.
In this study, 45% were female, and 55% were male. In this study, 58.7% were White;

19.4% Black/African American

;

45.3% Hispanic/Latino

;

3.3% Asian

; and 9.5% Native American. The median age was 52.0 years
---
The More You Know
The vaccine is safe and has been tested
There are advantages to having more than one option for a vaccine.
There are minor side effects. This is normal, it means the vaccine is working. Side effects may include chills, headache, fatigue and swelling at the vaccination site.
---
Did you know?
Kizzmekia Corbett, a 34-year-old, black woman helped lead COVID-19 vaccine research.
Factors such as race, socioeconomic status and occupation can increase your risk of contracting and dying from Coronavirus?
---
Know the Risk
African American and Hispanic populations have a greater risk of death from the virus.
| Rate ratios compared to White, Non-Hispanic persons | American Indian or Alaska Native, Non-Hispanic persons | Asian, Non-Hispanic persons | Black or African American, Non-Hispanic persons | Hispanic or Latino persons |
| --- | --- | --- | --- | --- |
| Cases | 1.8x | 0.6x | 1.4x | 1.7x |
| Hospitalization | 4.0x | 1.2x | 3.7x | 4.1x |
| Death | 2.6x | 1.1x | 2.8x | 2.8x |
Information pulled directly from the CDC website.
---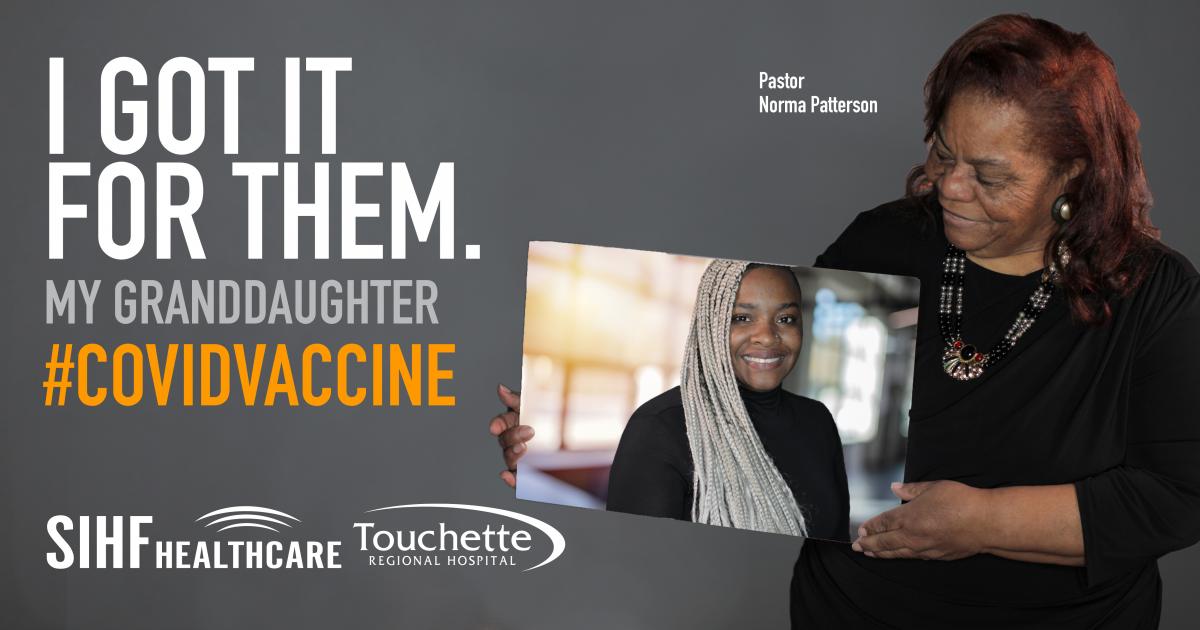 Take Action
Don't wait. Get the COVID-19 vaccination when it's offered to your group.
Ask yourself, who will I get it for?
Share your COVID-19 vaccination story on Facebook with us by tagging @SIHFHealthcare or @TouchetteRegionalHospital with the hashtag
#COVID19Vaccination