Blog
Take A Stance Against Flu Season
October 18, 2017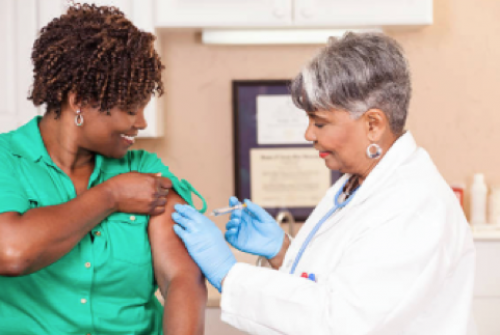 It's that time of year when we all start to take precautions so the flu won't creep its way into our homes during holiday festivities. Flu season can begin as early as October and last through May and with predictions that this will be one of the worst flu seasons in history, it's necessary to get your flu shot now! While washing hands and taking extra precautions to stay away from others with the flu is always a great idea, annual flu vaccination is recommended as the best way to protect yourself and your family from the illness.
Every year in the United States, 25% of people are stricken with flu-associated illnesses. Don't allow yourself to suffer from incessant runny noses, sore throats, or achy muscles this holiday season. Making an appointment with SIHF Healthcare to get your flu shot is quick, easy, and will help keep this nasty, occasionally deadly, illness away from you and your family. Here are 5 misconceptions about the flu shot to help you understand the importance of vaccinating:
"The flu shot can give me the flu."
Flu vaccines cannot cause flu illness. Flu shots given by a needle are made one of two ways: with an 'inactivated' virus or with no viruses at all. Side effects from the shot may simulate flu side effects such as soreness, muscle aches, or headaches, but are not evidence of having influenza.
"I don't need to get the vaccine EVERY year..."
The Center for Disease Control and Prevention recommends a yearly flu shot for almost everyone six months and older. A person's immunity from a vaccine declines over time, so it is important to stay up to date on your shots.
"Getting vaccinated twice will give me added immunity!"
Only one dose of flu vaccine is recommended per adult, per season, as double dosage has shown no benefits. Double vaccinations should only be considered for certain children aged six months through eight years of age.
"The stomach flu is the same thing as influenza."
"Stomach flu" is a term used to describe illness with nausea, vomiting, or diarrhea. These symptoms are not solely related to influenza, as they can be caused by a variety of viruses, parasites, or bacteria. The flu is a respiratory disease, not a stomach/intestinal disease.
"I shouldn't get the flu vaccine since I'm pregnant."
There is no recommendation for pregnant women to seek special permission from their doctor for vaccination. People who should not get the vaccine before speaking to a doctor include people with moderate-to-severe illness and people with a history of Guillain-Barre Syndrome.
For more recommendations recently released by the Center for Disease Control about how to protect yourself from the flu in 2017-2018, visit https://www.cdc.gov/flu
If you are ready to combat flu season, make an appointment with your local SIHF Healthcare Family Medicine provider. Our compassionate and highly trained providers have the ability to care for all patients, including children and the elderly. We know schedules get hectic during the holidays, so save some time and energy by visiting www.sihf.org to find an SIHF Healthcare location in your community!