News & Events
SIHF Healthcare Providing School / Sports Physicals at Over Two Dozen Locations
May 18, 2018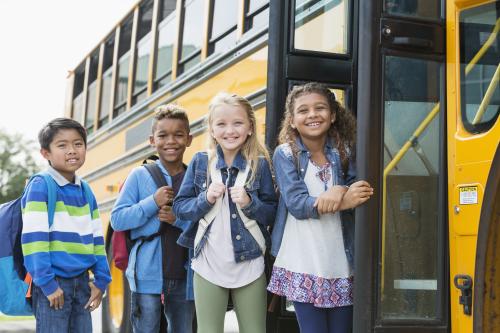 School's out for summer! Now is the time to cram in all the family plans for the next several weeks - beach vacations, float trips, camping, days at the pool, 4th of July BBQs, etc.
So many things come up during the summer it's almost impossible to squeeze in even the littlest unplanned task. And speaking of unplanned, have you thought ahead to school or sports physicals? Probably not, and that's okay, we're here to help.
SIHF Healthcare has over two dozen health centers that are already providing school and sports physicals. You may be wondering: "Why so early? School just let out for summer." The answer is, we want to help you beat the rush! Don't delay. Make sure your little ones are covered before they go back to school in August.
Stay ahead of the crowd by scheduling an appointment for your child today. With school and sports physicals being provided at 25 SIHF Healthcare health centers across Central and Southern Illinois, you're sure to find a convenient location. And if you're in the Belleville area, you can stop by the health center at 180 S. 3rd Street, Suite 103 - anytime, without an appointment! That's right; this location is the only health center that doesn't require an appointment. Walk-ins are always welcome and are encouraged!
Take a look at the health center locations below that are currently providing school and sports physicals. And remember, BEAT THE RUSH by making an appointment with one of our providers today!
Alton: 4 Memorial Drive, Building B, Suite 210 - 618.463.5905
Arthur: 525 N. Vine Street - 217.543.2446
Belleville: 7210 West Main - 618.398.8840
Belleville: 2810 Frank Scott Parkway West, Suite 828 - 618.236.6336
Belleville: 2900 Frank Scott Parkway West, Copper Bend South, Suite 950 - 618.233.3205
Belleville: 180 S. 3rd Street, Suite 103 - 618.222.4763 (NO APPOINTMENT NEEDED)
Belleville: 180 S. 3rd Street, Suite 104 - 618.222.4701
Bunker Hill: 144 N. Washington Street - 618.585.6290
Cahokia School-Based Health Center: 800 Range Lane - 618.337.3122
Centreville: 6000 Bond Avenue - 618.332.2083
Charleston: 626 West Lincoln Avenue - 217.345.7702
Collinsville: 1215 Vandalia St. - 618.343.6015
East St. Louis: 100 North 8th Street, Suite 120 - 618.274.9105
East St. Louis: 100 North 8th Street, Suite 232 - 618.337.2597
East St. Louis: 2001 State Street - 618.271.9191
East St. Louis School-Based Health Center: 4901 State Street - 618.482.4575
E. Alton / Bethalto: #2 Terminal Drive, Suite 8 - 618.259.0365
Effingham: 900 West Temple Avenue, Suite 208 - 217.342.0211
Fairmont City: 2568 North 41st Street - 618.482.4015
Granite City: 2166 Madison Avenue - 618.219.3318
Greenup: 302 North Mill Street - 618.923.3311
Mattoon: 700 Broadway Avenue East, Suite 39 - 217.234.3091
Millstadt: 60 Regency Place - 618.476.3373
O'Fallon: 3 St. Elizabeth's Blvd., Suite 4000 - 618.233.5480
Olney: 1200 North East Street - 618.395.5222
Red Bud: 824 Locust Street - 618.282.6656
Salem: 1275 Hawthorn Road - 618.548.4545
Swansea: 3214 N. Illinois Street - 618.233.0742
Vandalia: 1510 Sunset Drive - 618.283.3144